Testimonials
Where SSU students come from…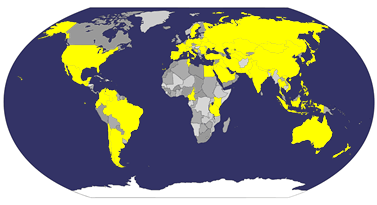 Map Legend: 20%, 55 of 263 Territories

Yellow






















































…Our students come from all over the world to study our competitive and professionally-recognized academic degree and English programs
---
Testimonials from Degree Programs
  SVITLANA NEKRASHEVYCH from UKRAINE

  Master of Business Administration (MBA), SSU San Diego
  Southern States University is a great opportunity for students to broaden knowledge beyond their field of     studies within an international multicultural environment. I met people from all over the world and this enabled me to grow personally. For business students to think out of the box is very important and useful especially in our fast moving world, SSU encourages this through the majority of classes and creative assignments that make students independent researches as well as team players. As an alumnus I know for sure that SSU prepares us to deal with most difficulties that come along in our professional careers. I remember the day when I first saw Southern States University -  I decided that it's too small to be able to provide the education I wanted to. But even first lessons made me change my mind. The classes were not crowded and it helped professors get acquainted with each student personally and find unique ways to bring the knowledge to everyone. All SSU professors are experienced and successful people in their business lives and very often give students an opportunity to test themselves through internships and half-part time positions. That gives priceless lessons and working experience in foreign country business environment and possibility to get good references if you want to stay in the USA and continue your business life here. This was also my path. I was lucky to be noticed by one of the professors and after my internship at her attorney's company i was invited to continue work there with my OPT. The position I held is a research assistant/business analyst. My primary responsibilities include the conducting research and preparing reports on various local and national business topics. I easily deal with the job requirements  due to the professional training I got at SSU.
I highly recommend SSU to all my friends in Ukraine who has a desire to study abroad.
MICHELLE ALAVASKI from BRAZIL
Bachelor of Business Administration (BBA), SSU Newport Beach
"Life gives us many choices and opportunities. I have chosen to invest my future into earning a Bachelor of Business Administration at Southern States University. Every day, thanks to SSU, I feel like I am progressing closer and closer towards my goal. SSU offers the most affordable BBA and MBA programs in the United States, and there are several payment plans to choose from."
NISRAG PATEL from INDIA
Master of Business Administration (MBA), SSU Newport Beach
"SSU is one of the best schools in California, located in one of the most fascinating places in the US. The professors are very experienced, and recognized in their fields. Their teaching styles and practical approaches to problem solving are extremely helpful, and I am sure that the knowledge and skills that I acquire here will help me a lot when I start my career in business. SSU offers applied degrees, which are far more useful than research-based degrees. The administration is extremely helpful, always willing to assist their students. In short, SSU helps its students to go out into the real world with a high standard of education."
MARIANA DELGADO from Brazil
Master of Business Administration (MBA), SSU San Diego
"I studied English at the International Academy of English for several months, preparing to take the TOEFL test and start the Business Administration Program at Southern States University. I know several other students who took the same path. The International Academy of English prepared us very well for graduate-level education.
I chose to study for my MBA degree at the Southern States University because I feel very comfortable in the international community atmosphere of the SSU campus. SSU is a small school, and has many advantages because of this. I definitely get more attention from the professors than students in large schools. SSU has excellent educational resources. For example, the university library provides us with access to numerous electronic subscription databases, where we can find updated information in every discipline. This was new for me. In Brazil, where I got my degree in Law, we only used printed sources. I am glad that Southern States University gave me a chance to learn modern technologies.
We have a student computer center on campus. Every day I check the course pages on our university's online learning portal, where we turn in our assignments and participate in online forums with other students.
Being a member of a small educational community, I know many students in the program. SSU's administration understands our needs and supports our ideas. Not long ago, we organized a forum where students can trade and sell textbooks, and we are in the process of organizing a student tutoring center on campus."
FIYONA RASHIYANI from INDIA
Master of Business Administration (MBA), SSU San Diego
"My decision to apply for a graduate program at the Southern States University was very well thought-out. By that time, I already had a Master in Commerce degree from the University in Mumbai, India, and I also received a certificate in Business Administration and Management in the United States. However, a Master degree in Business Administration is worth much more than a certification, and it will add more value to my professional status. Receiving an MBA degree from Southern States University will significantly improve my chances of getting a highly-paid position in India.
I was impressed with the friendliness and openness of the people on campus. The educational process is more interactive and practical than in my native country. In India, we mostly memorized material. SSU instructors encourage us to express our thoughts and ideas in class, and work on numerous practical projects.
Southern States University is located in the best region of the United States – Southern California. I fell in love with San Diego. There is a big Indian community here. I am a member of the Indian church, where I met many beautiful people who became close friends."
BORA SARISU from TURKEY
Master of Business Administration (MBA), SSU Newport Beach
"I am proud to be a student at Southern States University. Having an MBA degree has always been my dream, and now I am pursuing this dream at SSU. All of our teachers are very professional, and experts in their fields. I am learning a lot from them. SSU's career services are also extremely helpful."
Testimonials from English Programs

BRUNO SANTI from BRAZIL
Intensive English Program, SSU San Diego
"After graduating from the university in Brazil, I started to think about going to the United States to improve my English. A friend recommended the International Academy of English in San Diego. The process of applying to IAE was very smooth and not stressful at all because The International Academy of English has an office in Brazil. I was able to meet with the school representative, we talked about every detail, starting from program study and finishing with rental options and medical insurance in San Diego.
The school took into account my preferences when creating a schedule for me. I planned to concentrate on improving my speaking skills, and I got a chance to do so in the IAE. The school requires all students to take placement tests, and we have evaluation exams often, so if some students are doing better than others in class, they are transferred to more advanced classes.
I am thinking of applying to the Master of Business Administration at the Southern States University because the International Academy of English is affiliated with this school. My English skills improved significantly – I am ready to pass the TOEFL test and become a graduate student. I know from my own experience and from other students' reviews that I can get an affordable and quality education at Southern States University.
I like the diverse campus atmosphere – I met and became friends with students from many countries. My roommate is from Korea. My teammates on the University's soccer team are from Brazil, India, Turkey, and other countries. Our soccer team won second place in the West Coast Soccer Association League in 2009 and in the Aztec Cup, beating strong teams such as San Diego State University and University of California of San Diego."
RENA HAN from JAPAN
Intensive English Program, SSU Newport Beach
"I'm very happy studying at SSU. We have nice, experienced teachers and staff, and very enthusiastic students. The campus is very diverse. I really enjoy speaking and spending time with people from different countries. After I complete the ESL program I am planning to apply for the BBA or MBA programs offered by Southern States University."
spacer
HELEN CHOE from KOREA
Intensive English Program, SSU San Marcos
"I like Southern States University because all continents are represented in each class. I feel like I am in the United Nation every time I attend school. There is so much unit, concern and harmony among the students. The teachers are very competent in their subject areas and supportive to all students.
Unlike other schools, where the classes are crowded and the atmosphere is very impersonal, the classes at SSU are small, allowing students to participate more effectively in activities and discussions. The ESL lectures offered here are very captivating.
The SSU administration is always willing to help their students.. I would recommend this school to all international students who consider studying abroad. My English has improved so much. I'm going to leave the U.S soon, but I'd like to come here to study at this school again, if I have a chance."
PHOOM DAENGBUBPHA from THAILAND
Intensive English Program, SSU San Marcos
"One of the advantages of this school is its convenient location. SSU offers English programs in several locations in San Diego, Newport Beach, and Las Vegas. Another advantage is its very flexible class schedules. Classes can be taken at different times of the day: morning, afternoon, or evening. SSU also has a very good library with lots of materials available to students and student computer centers on each campus. The Library and computer labs are a big help to us in improving our English skills. Other ESL schools don't provide such services.
We have fun while learning English here in California, and after school we go to the beach."